Ashley: Teapreneur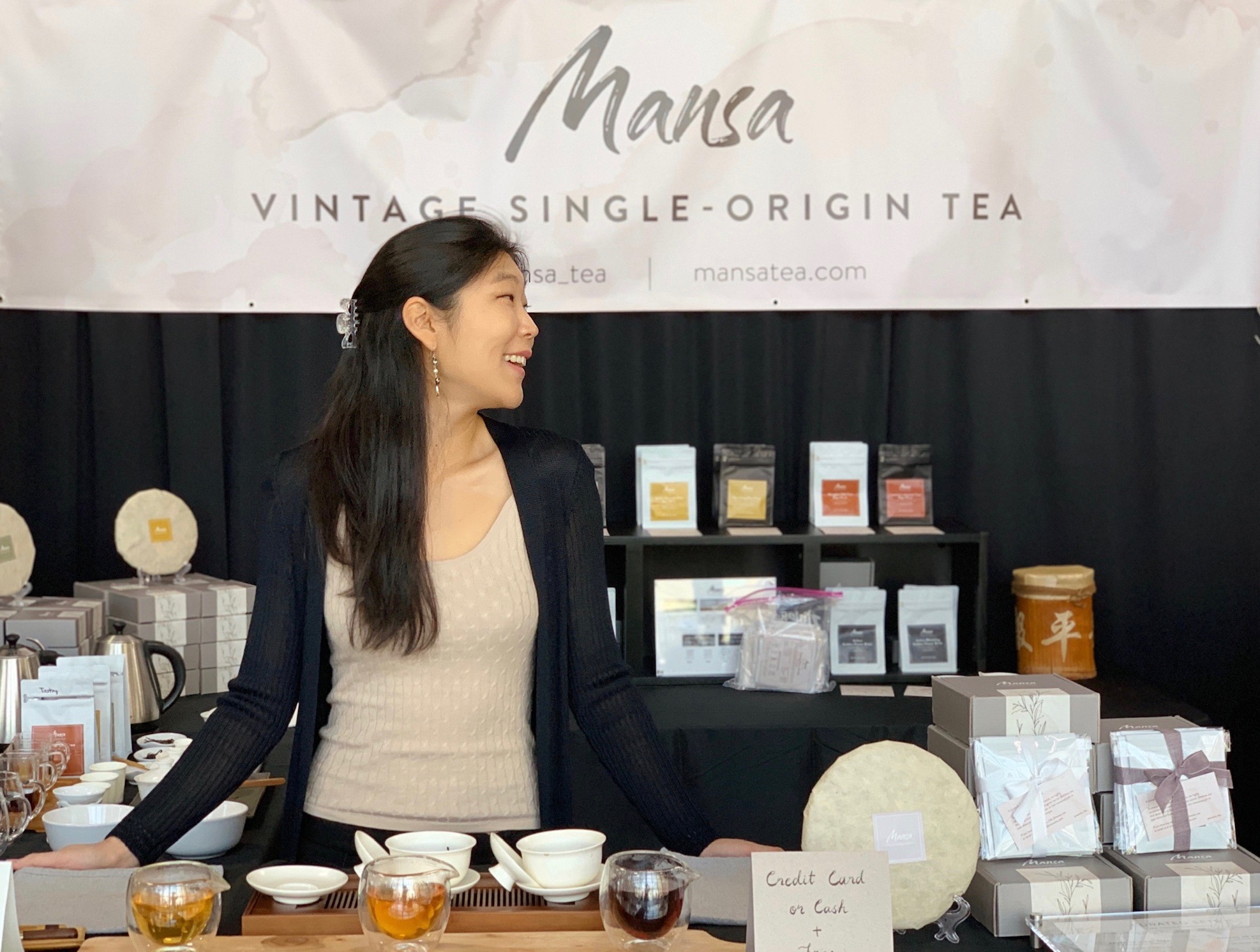 Meet Ashley - a management consultant turned tea entrepreneur.
Her goal? To elevate tea culture in New York City and beyond through single-origin aged tea. While Ashley grew up having her dad and brother in the business, she sought to pursue a venture of her own and launched Mansa Tea after pursuing her MBA at The Wharton School in 2018.
Describe yourself in three words

Passion-driven healthy foodie

Pu'er tea has been described as the "fine wine" of teas. Why is it important to you to share your experience with pu'er tea and to elevate tea culture?

We have so many high quality options as consumers when it comes to wine, beer, cocktails, coffee, but more limited when it comes down to tea. Many fine dining restaurants still serve tea bags when they'd never serve instant coffee. So it is no surprise that tea is not the first choice of beverage given the choices we have. I want to help bring the third wave tea by introducing high quality aged tea to tea connoisseurs and educating consumers about high quality tea.

While at business school, there were plenty of "wantrepreneurs." How did you navigate this landscape? Did you feel pressure to start your own company?

Actually, Wharton did not have as many wantrepreneurs as other business schools when I was there. I believe there are definitely more now. So it was quite an intimate group of us working on our own businesses, and we tried to keep each other motivated and accountable in the midst of many distractions around us (i.e. social gatherings, travels, other classmates' recruiting)

What are some of the most important skills or advice that you took away from business school? Would you encourage others to go to business school?

Aside from the soft skills, such as negotiation, leadership, you would expect from business school, I actually learned quite some hard skills that are useful for entrepreneurship especially when you bootstrap your startup. For example, courses like Legal Aspects of Entrepreneurship, Managerial Accounting, and Brand Management all helped me take on a lot of tasks earlier on without hiring an outside firm or freelancer for those work.

Not to sound like a former consultant, but I would say "it depends". Do figure out why you want to go to business school before you apply. Are you a career switcher? Is business school needed in advancing in your industry? Are you trying to take "2 years of break" because your company is sponsoring your MBA? This will help you be more deliberate on what you do while you are at school.

You are no stranger to long hours given your years as a consultant. How does it feel working long hours now?

I definitely do not work fewer hours now. I even find myself constantly thinking about Mansa Tea. However, it feels very different. First, I have more control of hours. I can work around important personal occasions (so yes, I will be at your wedding, your birthday, and family get togethers), and I do not travel to client site on a weekly basis. Second, I am very clear on the importance of each and every task I am doing, so I feel like my daily work matters. Lastly, I actually enjoy my work that I do not feel like it's work! Many entrepreneurs call their startup their "baby", and I see why. You do not count the number of hours taking care of your baby. Instead, you are always thinking about your baby, and you are thankful to have the opportunity and the experience. (I am not a mom just yet, but I am basing this off of my friends and family who are one)

You mentioned that you were "wired as a consultant" when you first started the business and had to learn new ways of communicating. How does your background as a consultant help with running Mansa?

I can quickly come up with a framework to organize the long-term and short-term strategy and our plan of execution for Mansa. I can quickly pivot from thinking through the higher-level strategy of the brand one hour to putting together a partnerships tracker the next.

What have been some of the most rewarding moments since launching Mansa?

Working with top restaurants to introduce our aged tea to more connoisseurs. Growing up near New York, I have always admired the New York's food scene. I remember making a wishlist of Michelin star restaurants to check out when I was in high school. To have Mansa Tea work with the exact restaurants on that wishlist is my dream come true.

Helping people create their special moment through our aged tea. I recently received an email from a customer who gifted our Laoman'e Bamboo Raw Pu'er to her friend. Her friend really loved the gift, describing it as a "special moment tea." Reading her story at midnight after a long day of work really made my day.

One of the buzzwords in startup world is "data." How do you go about collecting and using this data to better inform the business decisions you make?

We love talking to our customers. Which teas did they like the best? Where are they drinking our tea? We are keen on making our customers happy, and we make business decisions based on our customers' feedback.

Outside of tea, what are some of your other greatest passions and how much time do you dedicate towards those?

I like keeping a healthy and active lifestyle through ballet and rock climbing. I need to love and truly enjoy my "workouts" for me to stick with a routine, so hitting a gym or a barre class (though I do find barre very effective!) is not a sustainable solution for me. I take ballet classes 2-3 times a week and go rock climbing with my fiance 1-2 times a week.

What advice do you have for aspiring entrepreneurs?

Pursue your passion. If you don't love it, pick a different business idea. If you are motivated by money, get a lucrative job instead. It will be a hard journey without your passion.



Thanks so much to Ashley for sharing her story! You can follow Mansa Tea @mansa_tea on Instagram or check out their website here!